Sof-Pac® Insulated Bags | Premium Cooler Bags
---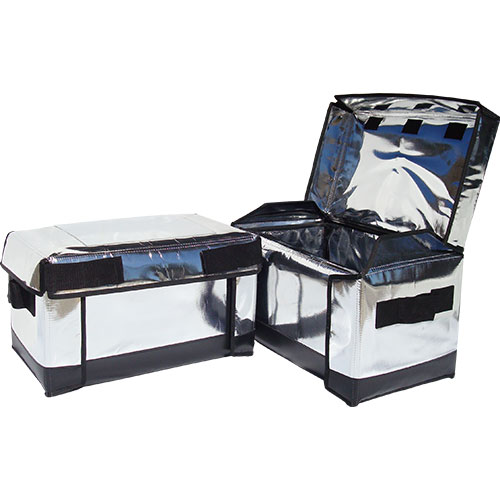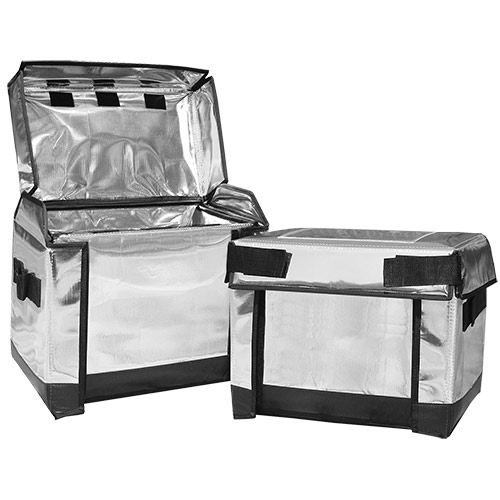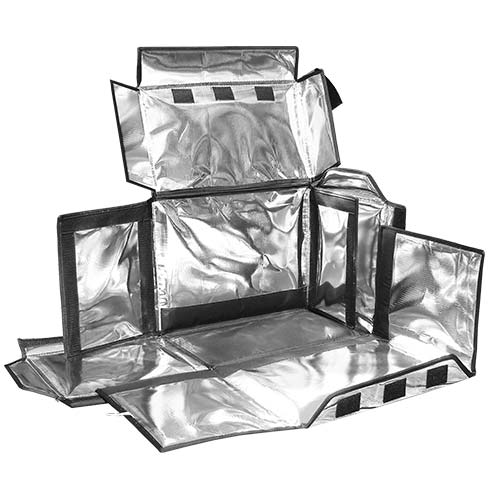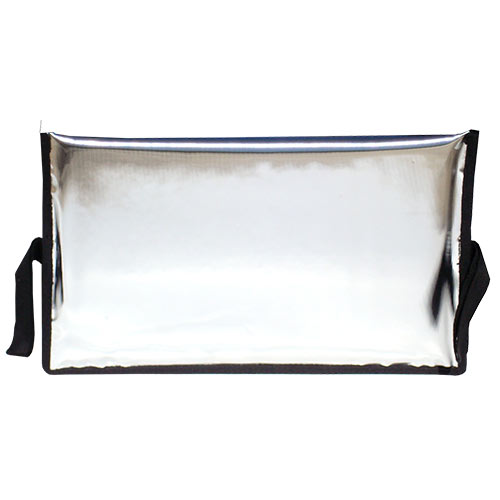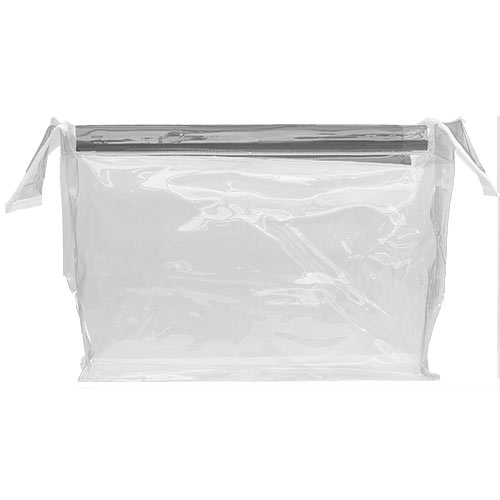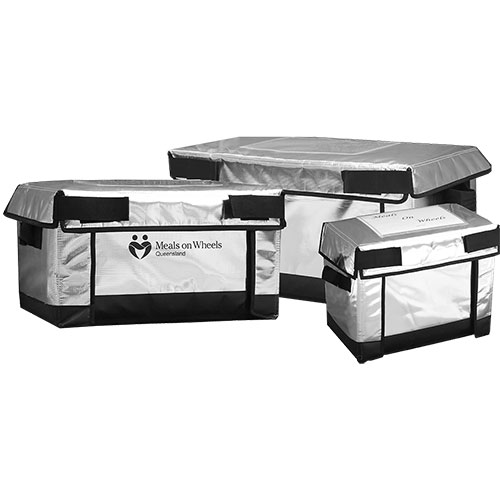 'Safety By Design … Not By Chance'
FULLY INSULATED CONTAINERS FOR TEMPERATURE SENSITIVE DELIVERY OF HOT AND COLD FOOD, SERUM, BLOOD, VACCINES.
When transporting chilled meals or vaccines, the Sof-Pac® bags will maintain a stable temperature of between 2°C - 8°C no matter how hot the external temperature is at the time. The Sof-Pac® bags are also specifically designed for the delivery of hot meals, maintaining the internal temperature above 65°C during delivery.

Sof-Pac® insulated delivery containers, along with the Sof-Pac® Shelf, are the perfect idea when it comes to the transport of temperature sensitive commodities. We strive to provide the total solution for temperature control when transporting items such as the delivery of hot and cold food, shipping ice cream, to pharmaceuticals. The Sof-Pac® bag is being used with great success at - Aurukun, Kowanyama and Hopevale in 45°C+ temperatures.
We also help client's design special packaging for those out of the ordinary products that require special handling and critical temperature maintenance.
Benefits of Sof-Pac®
Sof-Pac® Insulated delivery container for delivery of temperature sensitive products; hot or cold
Designed to hold temperatures without additional passive or active support or in conjunction with 'Flexible Ice Blankets' for extreme temperatures
Unit knocks down flat for easy cleaning, storage and bulk return.
Washable with ordinary soap/bleach and water
Available with side handles and shoulder straps
Bag Size
Code
Internal Measurements
Example of Meal Quantity Individual Bags Hold
Length
Width
Height
SP005
SP-005-1
36cm
21cm
26cm
6 standard meals + 6 soups/deserts
SP007
SP-007-1
42cm
26cm
25cm
12 standard meals or 30 soup/salads/deserts
SP009
SP-009-1
39cm
24cm
31cm
14 standard meals or Soup Cup Holder - 24 Cups
Or, 8 cups and 8 meals
SP018
SP-018-1
51cm
25cm
31cm
18 standard meal
SP024
SP-024-1
46cm
36cm
28cm
24 standard meal
SP062
SP-062-1
62cm
36cm
33cm
2 Bain Marie dishes
Please call to speak to our sales representative so we can assist you with your specific needs and requirements.
We can customize to your needs with size, Logo and trim colouring
(Minimum quantity of 100 required)
Dalby Meals on Wheels have been using the new Sof-Pac eskies for a few months now and are very happy with them. Meals stay much hotter than in the old eskies for much longer. In addition, the meals are easier to stack in the Sof-Pacs. Most of our volunteers have commented favourably. Thank you.
SOF-PAC® Shelf - $27.50
With the Sof-Pac® Shelf and Flexible Ice Blankets you can layer your commodities for optimum temperature control
Insulates each compartment while bag is opened
No more meals sinking into those below!
The bottom meals will stay as hot or as cold at the END of your delivery run as when you first put them in
---
SOF-PAC® Insert - $27.50
Stops spillage into Sof-Pac® Bags
Easily removed for cleaning
Washable with soap and water
Hygienic and food safe
---
SOF-PAC® Strap - $4.40
Assists in carrying of Sof-Pac® Bags
---
Heat Pak - $64.90
Assists in Keeping Meals Hot
Made with Organic Phase Change Materials
Designed and Manufactured in Australia
The ideal solution for keeping meals hot during deliveries
Ensures all meals are delivered at or above 65°C and in line with the Australian Food Delivery Standards.
Iceepak Data Loggers - Used to monitor internal temperatures of your Sof-Pac Bags - $149.50
The Iceepak Bluetooth Data Logger is a cable free, blue-tooth dual channel Temperature Data Logger. Available with or without an external temperature probe. The data logger is completely controlled via your mobile phone (Iphone or Android). The temperature log can be saved as a PDF or Excel file and emailed from your phone to your computer for analysis.
Features:

• Real time temperature display on your phone
• Real time alarms direct to your phone
• No cables required
• Programming & data download wirelessly through Bluetooth
• Dual channel measurement for temperature mapping across the bag
• Simple Data downloading in seconds
• Free iOS & Android APP are provided for smart devices

• Generate and save PDF reports through the APP
• Reports contain data summary, graph and detailed data
• IP65 rated enclosure

Carton of Flexible Ice Blankets - $217.80 inc. GST
This patented self contained packaging refrigerant maintains the critical temperature range significantly longer than anything else on the market to keep things cool. The clean sealed cells are filled with non-toxic liquid and are flexible even when frozen.
A carton of Flexible Ice Blankets contains one continuous sheet measuring 10.5m x 43cm
As a blanket it delivers continuous even insulation eliminating hot spots
Each cell remains at 0° while one ice crystal remains
Cut between pouches to customize size required
You don't have to hydrate Flexible Ice Blanket
Flexible Ice Blanket are hygienic and will not absorb any spills
Washable in mild detergent/bleach
View Flexible Ice Blanket Product Page
We will cut sheets of Flexible Ice Blanket to your requirements